Soccer LP
GET 20% OFF + FREE SHIPPING WITH CODE: SOCCER
THE WORLD'S FIRST FOUR WAY SOCCER GAME
Beach, Park or Backyard - CROSSNET is the most addicting soccer game you'll ever play.
SHOP NOW

"The stores can't keep CROSSNET in stock"

"Our #1 ranked backyard game of the year"

"The fastest-growing backyard soccer game"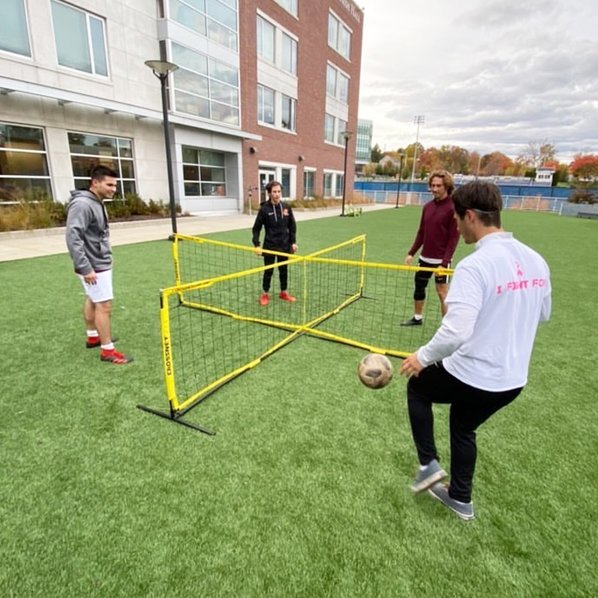 WHAT IS CROSSNET Soccer?
🏐 Juggle, kick, and head the ball into your opponent's square.
❌ Don't let the ball bounce twice in your square.
🥇 Game to 11, win by 2.
REVIEWS FROM OUR FANS
"This training tool is a blast. I thought I was a master juggler until it got brought out, but it put me to the test! At certain points I was having so much fun I couldn't stop laughing. This is great to use for practice, or even if you just want to goof around with some friends!"
I coach juniors soccer - this is the first product I've used that teaches them the fundamentals while also being extremely fun. Every chance they get they are playing on the net which is a win win for my sanity and their development.
Amber H.
Super easy assembly, love the bag it came in too. None of my family members are great at soccer which made this all the more interesting. We had a blast and after playing for some time you can see how much better your basic soccer fundamentals can get. Love this product and can't wait to start playing more!
Nilton D.
THE BEST SOCCER GAME EVER

Easy to play & addicting game for friends and family

Great way to work on your juggling, footwork, and trapping

Improves physical & mental health and gets everyone off their phones

Loved by PE teachers, soccer coaches, camps & churches
AMERICA'S FASTEST GROWING BACKYARD GAME
"If you're looking for a way to get your family outdoors, moving and smiling - this is it!"
Sarah W.
"Our family gathering had 16 people between the ages of 6 and 40-something all having a blast playing CROSSNET together!"
Suzanne M.
"Such a relief to see the kids outside and doing something active instead of staring at a screen."
Christy F.
SHOP NOW